Capture the essence of great comfort and elegance, dive into beautiful interiors and exterior designs that channel the breathtaking, dazzling ambiance with Algedra.
 Algedra's latest design collection is all about harmonious dance of minimal touches, luxury details, modern evolution at same time tranquil spirit designs to explore.
Many of us were overwhelmed with unpredictable years that are almost left behind, but where to start is through revolutionizing our home decor and interior design by cleansing the negative energy of the past.
Algedra gives us a chance to have a brand new and fresh start to revitalization.
Let us discover the best interior design company's collection.
Tuck into these luxury, chic and calming spaces!
Take the breath of the ocean and natural sand that gives you the feeling of being alive with this unique entrance design. High ceiling, shiny effect of marble and stones merging along the way of artworks. Everything you are looking for in one interior design.
Can you see the creative restaurant interior design that was designed by Algedra? Surreal, cloudy atmosphere of fifty shades of gray blending in harmony with blue.
If you desire to not only feed your stomach but your eyes too, come and see a harmonious symphony of water. Now you can enjoy every piece of your meal!
Living in a digital age or no technology can ever be compared or keep us away from the feeling of a good book in our hand, or showcasing our favourite volumes in a space that's comfortable, unique and personal.
Home libraries are more intimate as well as gorgeous with pieces of art!
This contemporary design will give you no less than freedom and imagination!
Nothing makes a living room feel cozier and welcoming than a fireplace! This artificial fireplace in this neutral living room by Algedra Interior Design blends into its surroundings due in large part to the fact that there's no mantel. The fireplace placement fits snugly into the marble feature wall without calling attention to itself.
Living room, dining room all in one space, bringing great time for friends gathering and movie nights!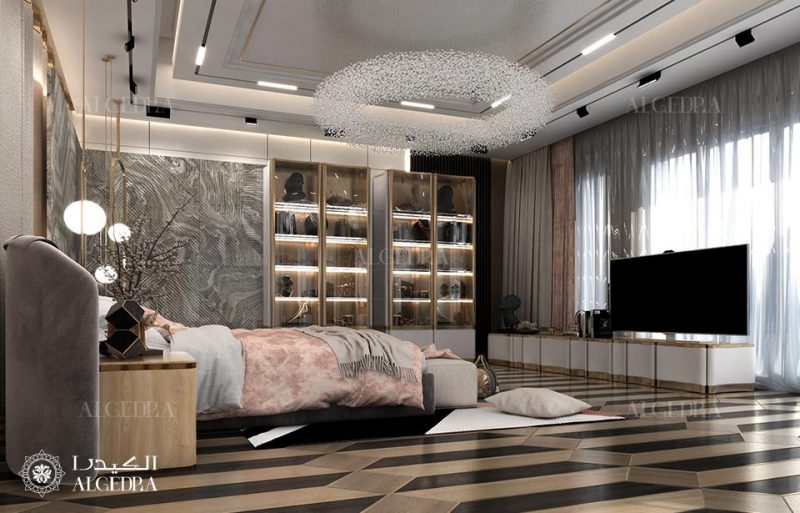 The most luxurious rooms are the simplest ones. Clean linens are the perfect cure for a great night's sleep.
The pops of pink and grey that show up in this bedroom design as minimal and simple touches create a great sanctuary of calming ambiance.
Simplicity is always palpable and this bedroom will never go out of style.
On-trend dressing room design ideas are endless with Algedra. This dressing room interior is a real-life inspiration.
Walk-in closets to special and big dedicated spaces will channel your inner voice.
Algedra designed this super stylish, bespoke interior closets that are glass-fronted and can be on display.
What are you waiting for to liven up your dressing room!
Algedra turns mundane spaces into powerful houses.
All it takes is a decision to have desirable yet attainable interior designs!
Contact Algedra to have a magical home or hospitality interior design to enchant your guests!