123homefurnishings.com – Do you ever feel depressed when you look to the something you love so much but you cannot afford it? And that thing is kind of home decor interior which is suitable at home. This is because of the price which is too high so you cannot buy and bring it home. Do not worry, we would like to help you in order not to have the same situation like that before. By showing you an easy and exquisite rope hanging shelves DIY, we hope it can complete the home decor that you dream of. Let see how it works below.
Rope Hanging Shelves DIY
The name of rope hanging shelves is not new in this era. It has been successfully solving the home decor problems by presenting the design itself. But in fact, some people cannot afford it just because of its price in any shop out there. Therefore, the DIY of rope hanging shelves is suitable for you to be tried. Let's take a look at the material and step of rope hanging shelves DIY.
Material :
To make rope hanging shelves, you have to consider the main material which is must be found first. It can be a solid pine board. You are able to find it at some home furnishing shops. After that, do not forget to collect a stain, rope, and knobs as the final item. According to us, you can find and buy these materials easily before starting the DIY.
Steps :
First of all, you have to measure the size of the hanging shelves that you need it. For your information, you can make it into 3 tiers of rope hanging shelves. It is based on your preference. Do not forget to make 4 holes on 2 parts of the board side by dividing it into 2 holes separately. So after that, you can insert the rope into the hole later.
The second is staining the board from both of its sides neatly. You can dry it overnight.
The third way, we can say it is the most hard step to do. But do not worry, you can face it perfectly and patiently. In this way, you have to make a perfect knot after inserting the rope into the available holes. Try to make the knot beautiful and stunning without damaging its look.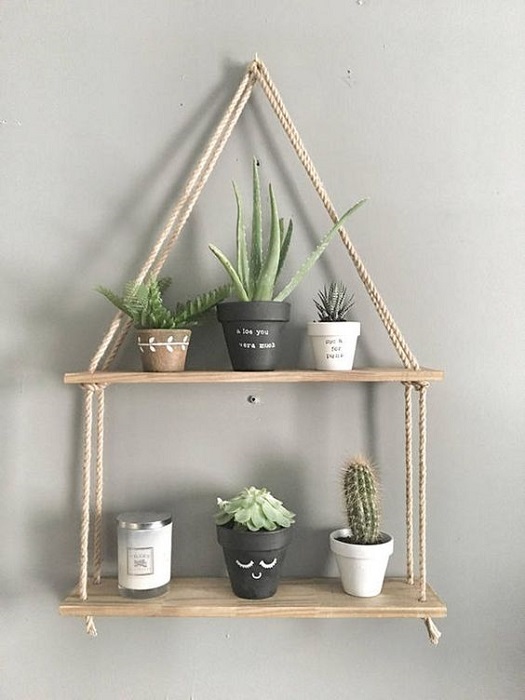 As the final way, you have to use your final items which are knobs. You can use metal knobs in order to make the hanging shelves keep hanging on the wall perfectly. Next, you can put and decorate the rope hanging shelves by some books or plants. It is easy, right?
What do you think about the easy and exquisite rope hanging shelves DIY above? It is not such hard work to do, is it? For your information, you can visit another DIY here. Happy trying!