After spending a lot of time at home this past year, you probably have noticed the necessary decor changes that need to be done in your interior. This 2021, it is time to redecorate and transform your home into a place you will love and adore. Forget about the high remodeling costs and gradually take on the home remodeling project on your own. A good start would be to freshen up your indoor spaces with these 5 elegant furniture pieces:
For the living room:
Coffee table
Every living room is not complete without a coffee table. It's important to have a coffee table just a few inches away from your sofa to hold your snacks, drinks, or reading materials. A coffee table is a wonderful centerpiece that ties together your living space. Get to choose from today's popular coffee table designs, including a mirrored coffee table, rotating wood coffee table, and lift top coffee table.
Chaise lounge
Do you often use your sofa chair for sleeping? If yes, you should definitely get yourself a chaise lounge.  A chaise lounge will let you sleep comfortably and wake up without any neck and back pains. You can place it in any corner of your living room or permanently position it near a window. This trendy furniture piece provides additional seating when having your family or friends over. It also has a chest under the seat for keeping extra pillows and blankets.
For the kitchen: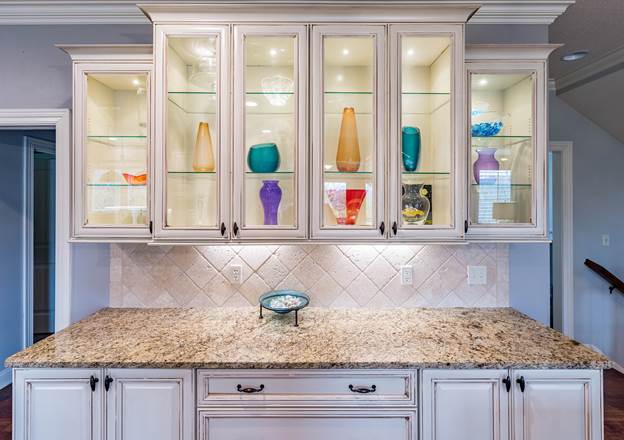 Glass cabinets
Add elegance to your kitchen space by replacing your ordinary wood cabinets with glass-styled ones. Glass front cabinets are perfect for storing or displaying lavish dinnerware sets. If you don't like showing off the cabinet's content, you can always opt for a frosted or colored glass.
Wooden bar stools
Spruce up your kitchen bar by adding captivating stools. These stools are now available in a wide range of colors, designs, and materials. The wooden bar stools are highly-popular among homeowners because of their timeless beauty and high durability.
For the bedroom:
Shaker dresser
A wood shaker dresser is a must-have bedroom furniture piece. This dresser offers a neat and seamless way to store your clothes. It also provides extra space for displaying bedroom decor pieces. Shaker dressers are usually made of 100% solid wood — a great addition to cottage, traditional, and transitional bedrooms.
Tufted headboard
Customize your bedroom by installing a tufted headboard. It's the cheapest and easiest way to transform your bedroom. You can buy a bed with a tufted headboard or install one yourself. With plenty of headboard colors, designs, sizes, and materials to choose from, you will surely find the piece that suits your taste and style.
How to arrange your furniture around plumbing components
When rearranging your furniture, remember to look out for plumbing pipes or fixtures that might get in the way. To help you safely position your furniture pieces around your plumbing system, ask help from a licensed and skilled plumber in your local area. Never compromise on safety when remodeling or redesigning your home: consult your trusted professionals!